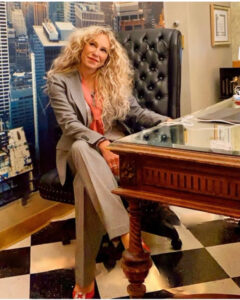 Dr. L. Michelle Sugerman, Ph.D. is a Neuropsychologist and owner of Steinmann Institute.
She received her Bachelor of Science degree in Psychology and Bio-Chemistry from The University of Arizona and a Clinical Psychology doctoral degree from Capella University. Prior to obtaining her doctoral degree Dr. Sugerman worked for C.O.D.I.S. and Myriad Genetics in the discovery and sequencing of disease-related genes. During this time she also assisted in sequencing the genomes for Rice and Corn. Her doctoral dissertation research focused on visuospatial memory in adults utilizing the test of memory and learning.
Dr. Sugerman completed her internship in clinical psychology at Utah State Hospital, in Provo Utah, specializing in pediatric care of those with learning disabilities, developmental disorders, traumatic brain injury, dementia, and severe and persistent mental illness. In addition, Dr. Sugerman completed a specialized fellowship rotation at Dartmouth Medical School in Pediatric Neuropsychology, before founding Steinmann Institute.
In addition to private practice, since 2011, Dr. Sugerman has been affiliated with Salt Lake Behavioral Health and is the Chief Neuropsychologist for the Military Strong Hope. She is also the State Designated Neuropsychologist for the Utah Fire Corporation and a State Designated Neuropsychologist for the TBI FUND, who on her own initiative has recently facilitated affordable MRI availability through USMRI for TBI Fund patients on an on-going basis.
She is a HIMS certified and Federal Aviation Administration [FAA] approved psychologist/neuropsychologist examining aviators with medical, neurologic, and psychiatric conditions as well as evaluation of pilots with performance deficiencies and baseline evaluation for airline new hires. Evaluation includes CogScreen – Aeromedical Edition if necessary.
Dr. Sugerman is also a CIC for ImPACT, examining those with sports-related concussions.
She has been the Sub-Investigator for over 20 worldwide cognitive studies within Dementing disorders alone and currently facilitates training of 60 sites nationwide in the administration and protocol of neurocognitive measures.
She is the former board chair of the Polizzi Free Mental Health Clinic of Utah and currently serves on the Medical Boards for Utah Geriatrics Society, the United States Brain Injury Alliance, and Alzheimer's Association, Utah Chapter.